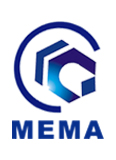 The 2020 3rd International Conference on Mechanical, Electrical and Material Application was successfully closed on 6th November, 2020. Due to the effect of Corona Virus, the conference in this year was held online. The following is the screenshot of the participants.
2020第三届机械、电气与材料应用国际学术会议已于2020年11月6日完满结束,以下为参会人员名单,感谢各位学者专家抽空参加会议,期待下次再会
Keynote speakers:
Prof. Yen Kheng Tan / Energy Harvesting Sensors for Autonomous Manufacturing
Prof. Song Wang / Various multiphase motor and control technologies
Prof. Jie Huang / Microwave Eelectricmagnetic Induction Effect In the Near Field and Its Mechanical and Electrical Application
Prof. Kai Wang / Application of piezoelectric nanogenerator in 3D dynamic sensing and human-computer interaction
Oral Presenetation:
Jihong Ren / Dynamic Security Assessment Method of Power System Based on Improved XGBoost.
Rui Feng / First Order Sensitivity Calculation of Car Door Based on Combined Approximate Reanalysis Method
Bing Ji / Analysis of Unsteady Flow Field in Rotating Detonation Turbine Engine